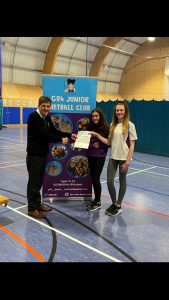 Lions President Phil Armstrong presenting a cheque for £500 to members of the G84 Netball Group to support an initiative to encourage young people to play netball.
Club member Don McDonald also presented a cheque for £500 to John Hanks Treasurer of the Helensburgh Lunch Club which provides regular lunches for senior citizens
A similar amount was given to Parklands School to help fund a trip to the cinema for children and parents and a visit to the school by a Pantomime show.
We also donated to the Helensburgh Food Bank.
The total £2100 donated also included £100 to fund the purchase of Christmas presents for children in the cancer ward at Glasgow Children's Hospital (Yorkhill) through the Laura Crane Cancer Trust