Helensburgh Lions Club held their annual Golf Day at Helensburgh Golf Club on 1st June when a record entry of 55 teams filled the schedule. The generosity of the Sponsors and the participants raised £2841 for the Lions Club charity funds.
Despite poor weather the course held up remarkably well and produced some excellent scores.
The winners with 50 Stableford points were "And in Last Place" Helensburgh members Tommy Darroch, Michael McKechnie and Carrick member Jim Hodge.
With 48 points were " Creaking Bones" Alan Barker, Alan Armstrong and Nick Knox who in addition to second prize won the newly awarded Geoff Brewster Quiach as the leading team made up of three Helensburgh Golf Club members.
In third place also with 48 points " Helensburgh Garelochhead Rotary Club", Brian Blackwell, Stuart Graham and John Laverty.
Four teams accumulated 46 points and the places were settled on count back.
" Jamie Francis "  Fillipo Madonia, Bret Loudfoot and Jamie Francis.
" Golf Buddies "   Jim McKenzie, John Ford and Phil English.
" Faslane Base " Liam Hanson, Steve Crew and Jim
" Game Turners "   Howard Turner, Gordon Murdoch and Malcolm Hyatt.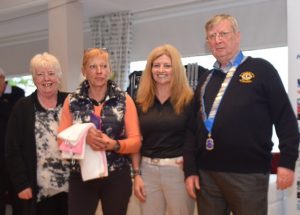 The Ladies Prize was won with 41 points by " Babs Babes "  June Haggarty, Babs Robertson and Maria Carling only one point behind were " Helensburgh Ladies ". Esme McRae,  Linda Kerr and Ethel Smith
Prizes for nearest the pin were won by Tommy Darroch 3rd hole, Jim Hodge 9th. The 11th was won by Phil Armstrong with Barry Connell being the closest on the 16th.
Big hitters Chris Chard and Steve Dickson won the prize for the longest drive on the 8th and 18th respectively.
A prize for the team with the highest aggregate on the par 3's was won by " Northern Vans "
Tom Bradley, Malcolm Haddock and B Mosson.
Before the presentation of prizes, Tom Dunn, the President of the Lions Club thanked the Golf Club Captain Murray Waddell and members of the Golf Club for the use of the course and their continuing support.
He thanked club Professional Fraser Hall for his assistance and the bar team Nicola and Justine for their hard work and Nic and the kitchen staff.  He congratulated Robert Bacon and his team for the excellent condition of the course echoing the comments of many of the players.
He particularly thanked the various sponsors and the players who made the day such a great success. He also thanked the ladies of the golf club who helped providing refreshments on the course and assisted with the raffle.